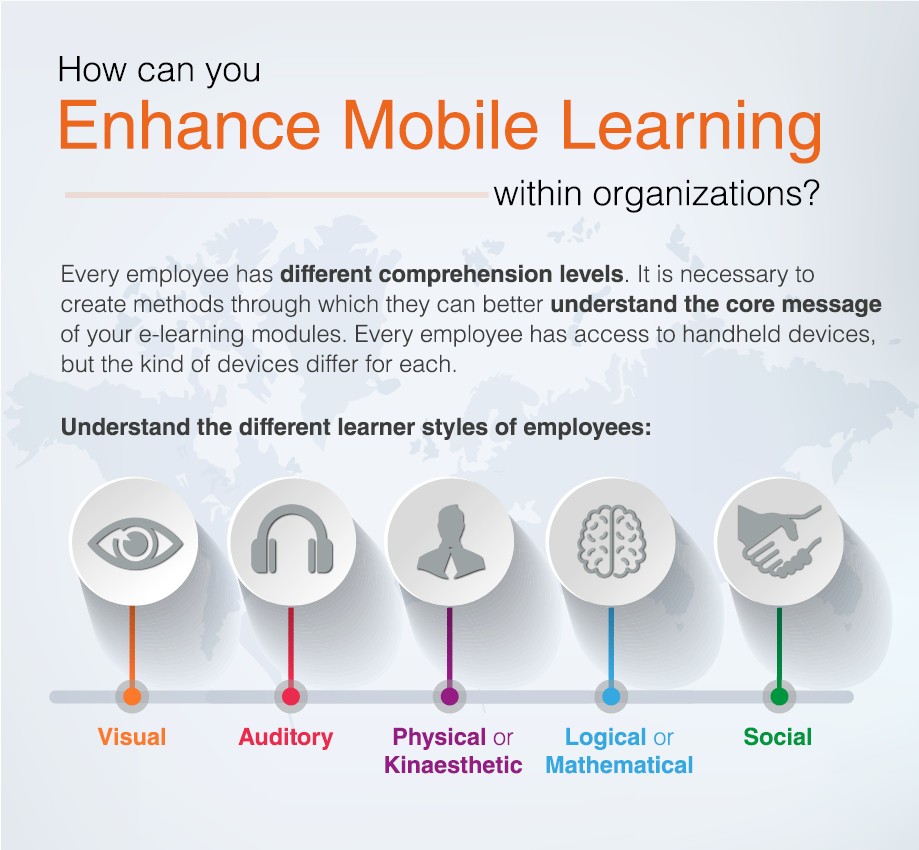 A large percentage of your workforce is constantly on the move and needs access to vital pieces of information – and they need it immediately, anytime, anywhere. Also, since they have a small window of time available to them between their hectic schedules of appointments, travel, and commute, they seek just-in-time learning, targeted and distilled information, and the ability to learn when it is convenient for them.
Now although you have decided to go ahead with a mobile learning module, there are no insights on the technology preferences of your learners. Would multimedia in content engage them to complete the modules, how many would prefer videos instead of text or would interactive assessments motivate them to be on course completion track? Some questions that need to be answered before you design your mobile learning.
Here's how learner personas enhance mobile learning within organizations
Learning Styles in Corporate Training
Each employee has a learning personality and its critical to identify and profile learners beyond demographics to design a successful mobile learning course or training. The approach of learner persona creates a cheat sheet for you before you set with to design the course. This being said, who benefits from mobile learning and development opportunities differs from one organization to another, even in the same industry. As said above, executives, sales people, and field engineers are arguably the most significant examples; however, you can also consider what tasks can be accomplished by a smartphone and look to see who in your organization performs these tasks. These considerations will help you identify and target your mobile learning and development initiatives.
Audience Analysis with Learner Persona
Mobile learning for corporate organizations is a challenge. Too many device types owned by employees, non-availability of industry-specific training content, lack of in-depth learner engagement tools to measure training success among many more. To ensure the success of your mobile learning program you should have insights on the different learning styles of employees.
Learner personas are like prototypes of your target audience. These are hypothetical characters based on their job role, skills, learning needs and preferences. It helps organizations do a comprehensive audience analysis to find out what kind of training content and delivery methodology will motivate their learners more.
You need to create an in-depth questionnaire to understand their knowledge & skill level, workplace challenges, learning cycle, technology preferences to know the learning preferences of your target audience. Strike a chord across different roles, departments and age groups of the learners with this personalized approach. With this, you are done with your audience analysis for the training and ready to connect with each learner on a personal level.
Learner-centric Micro-learning
Your workforce is more digital savvy, culturally diverse and social media proficient today than ever before. Micro-learning based employee training comes as a perfect fit for organizations. It is short, focused, packed with rich media learning nuggets designed to achieve a specific learning outcome. This is more important in the context of a mobile learning course as the content follows a learner-centric approach. Usually, the instructional design has to reflect the attitude towards mobile learning and technology comfort levels. Thus, in-depth learner profiles during course design helps to create impactful modules personalized to the employee training needs.
Michael Marketing Manager, Susan Sales Head, Melanie Management Trainee, Patrick Product Development Manager, Terry Technology Lead, Freddy Finance Manager, Frank Field Officer – all these could be unique learner personas that give you a tailored look at different types of learners and learning styles in your organization so that you can customize your mobile learning course design and content delivery in sync with their needs.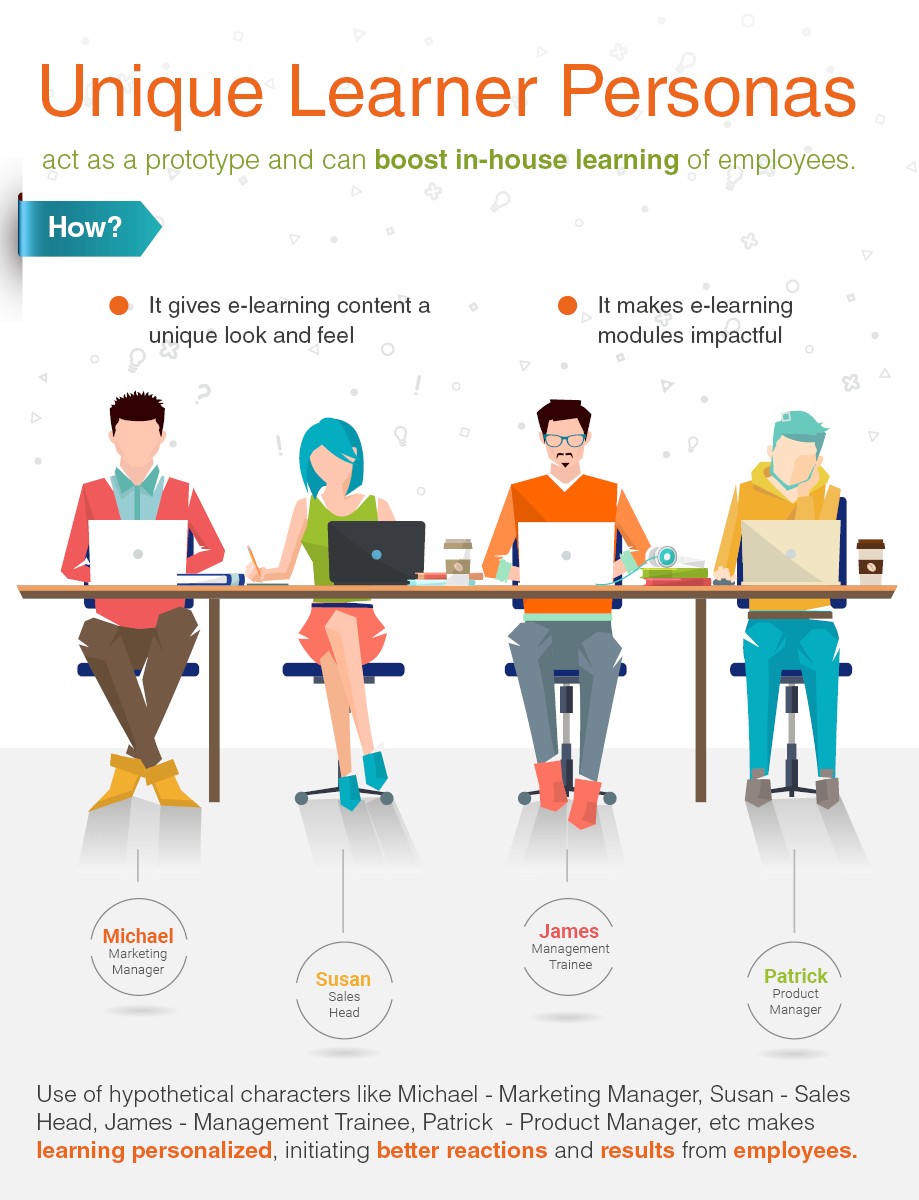 Hurix Mobile Learning Solutions for Future Workplaces
Stay ahead of the digital learning curve with learner-centric and business-focused  mobile learning solutions at Hurix. User-friendly, practical, broad-ranging, scalable, mobile solutions and support for the most popular smartphone devices and mobile learning content types, with content assignment, tracking, and reporting features. We have created interactive, multimedia-rich business-niche mobile learning content for manufacturing, retail, healthcare, pharmaceuticals, IT &ITES and many more. Our solutions are designed to help your workforce to maximize productivity and minimize downtime; and access formal learning content, reference or performance support content while on the move. Talk to us about your mobile learning needs, we would surely get back to you.